03 décembre 2007
PARC NATIONAL BRAULIO CARRILLO,
RESERVE MONTEVERDE, COSTA RICA
BRAULIO CARRILLO NATIONAL PARK
MONTEVERDE BIOLOGICAL RESERVE
COSTA RICA
TERRESTRIAL ECOREGION NT0167 : TALAMANCAN MONTANE FORESTS
TERRESTRIAL ECOREGION NT0129 : ISTHMIAN ATLANTIC MOIST FORESTS
.

La Selva Biological Station, Costa Rica
" C'est une triste chose de songer que la nature parle
et que le genre humain n'écoute pas "
"it is sad to think that nature talks and that
human genus doesn't hear "

Victor Hugo
---
Le Costa Rica est le second plus petit pays d'Amerique centrale mais représente pour certains un modèle d'écotourisme. De nombreux projets privés ont été menés pour protéger les dernières forêts tropicales et de nombreuses subventions ont été à l'époque alouées en échange de l'annulation de la dette du pays. On trouve donc en marge des grands parcs nationaux, de nombreuses reserves privées souvent de petite taille.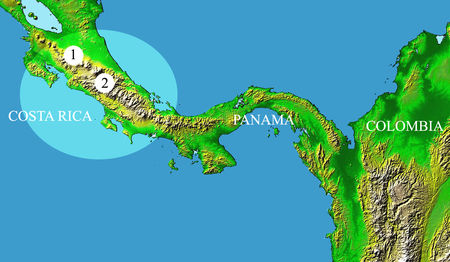 Reserves Location in Costa Rica, Localistaion des réserves au Costa Rica
1:Monteverde - 2: Braulio Carillo
Cette rainette aux yeux rouges est même devenue l'emblème du pays, on la retrouve sur tous les prospectus commerciaux ainsi que sur certains biens de grande consommation. Souvent le developpement explosif de l'écotourisme a donné lieu à des projets irrespectueux et anarchiques totalement voués au business;
Tout n'est pas rose au pays de l'écotourisme...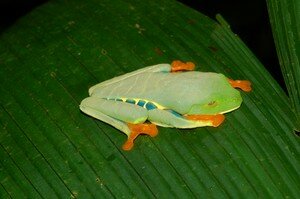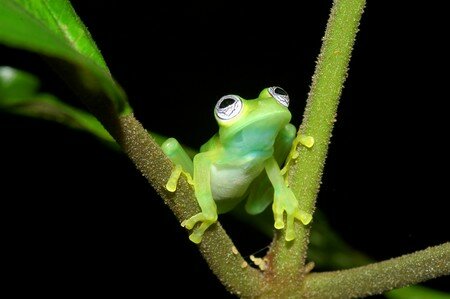 Agalychnis callydrias, Tirimbina Forest Reserve
Centrolene ilex, Ghost Glassfrog, Rara Avis Private Reserve
Costa Rica is the second smallest country in central america and represent for some people a model of ecotourism. Numerous private projects were implemented to protect the last primary rainforests in the country as we can see now, a lot of private small reserves aside the big national parks.
This red eyed tree frog became the idol of Costa Rica and we can find her on every commercials and even consumption products. Often in the country, the boom of ecotourism gave place to anarchic projects totally devoted to business. All is not that rosy in the country of ecotourism....


Réserve biologique Monteverde, Costa Rica
---
Les grenouilles de verre dont on compte 138 espèces sont particulièrement photogéniques. Malheureusement pour le photographe, elles sont, d'une part, strictement nocturnes, proches des rivières et des torrents... et d'autre part, demandent un haut degré d'humidité ( comprenez beaucoup de pluies ).

Gauche, Left : (Gen.) Cochranella, La Selva BR. Costa Rica
Droite, Right : Hyalinobatrachium pulveratum, La Selva BR. Costa Rica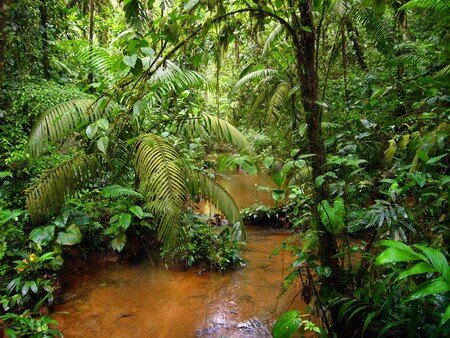 Tirimbina Rainforest, Costa Rica
Glass frogs are represented by 138 species and are particularly photogenic. But badly for the photographer, not only they are stricly nocturnal, but they are also found near the rushing streams and need very high humidity levels (understand a lot of rains).


Amphibians and reptiles of Costa Rica
---
En arrivant au Costa Rica on se rend très rapidement compte qu'il s'agit d'une destination ciblée écotourisme; j'ai eu l'impression d'être au pays de la forêt maitrisée, et pour découvrir le pays il faut véritablement aller hors des sentiers battus, mais le pays regorge malgré tout d'une incroyable biodiversité pour qui sait s'écarter des sentiers battus. Ce petit pays à lui seul, a ouvert la voie à l'écotoursime et à la sensibilisation des pays "riches" à la protection des forêts tropicales humides.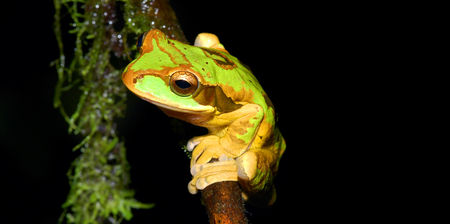 Smilisca phaeota, Masked treefrog, Monteverde Biological Reserve
Anolis tropidolepis, Cloudforest anole, Monteverde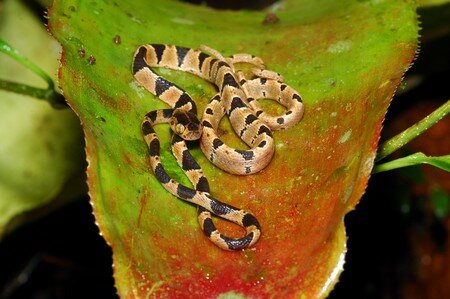 Imantoides cenchoa, Monteverde Biological Reserve
---
La station biologique de La Selva est probablement la plus grande et la plus moderne station scientifique au monde dédiée au milieu tropical. Elle a été créée par l'Organisation des études tropicales (OTS) fédérée par un consortium d'universités. Certaines parcelles déforestées ont été laissées à l'abandon et sont depuis étudiées. On voit ainsi l'évolution du type de végétation et de sa biodiversité sur differentes parcelles allant de 1 à 7 ans. Mais il y aussi les herbariums, les collections d'insectes en tous genres, la bibliothèque, les laboratoires, les 57 kms de sentiers ....on peut facilement y passer une semaine sans s'y ennuyer une seule seconde.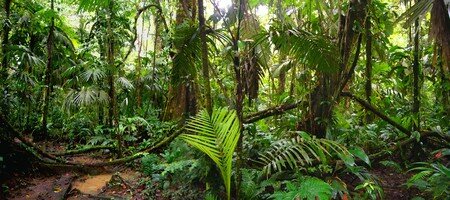 Sentier des marécages, La Selva Biological Station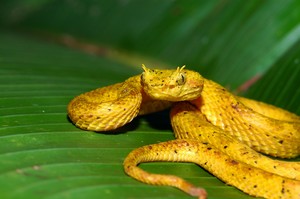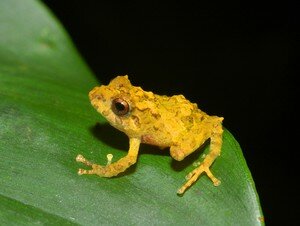 A gauche : Botriechis schlegelli, Eyelashed pitviper, Braulio Carrillo NP, Costa Rica
A droite : (Gen.) Eleutherodactylus, unknown specy, Monteverde
La Selva is probably one of the biggest and most modern of the biological stations for tropical studies in the world. It was created by the Organisation for Tropical Studies, a consortium of universities. For example some deforested parcels are studied to see the type of plants and the biodiversities on each parcels from 1 to 7 years old. But there are also, the plants and insects collections, the library, the laboratories and the 57 kms of trails. We could spend weeks over there.

Oxybelis brevirostris, Short nosed vine snake, Rara Avis Private Reserve
---
La réserve de Rara Avis est sûrement le projet écotouristique le plus incroyable du Costa Rica : ce fût tout d'abord un des deux premiers projets d'écoutourisme il y a plus de 25 ans et depuis rien n'a changé : la réserve, petite en soit (environ 400 hectares) est couverte en quasi totalité, de forêts pluviales primaires et borde l'immense parc national Braulio Carrillo. Nous sommes donc ici sur près de 45.000 hectares de forêts tropicales très riches. Rara Avis est un des coins les plus arrosés du Costa Rica : il tombe ici plus de 8 mètres d'eau par an. Il faut dire que la réserve recoit directement les pluies du Pacifique et de l'Atlantique...


Rara Avis Private Reserve, Costa Rica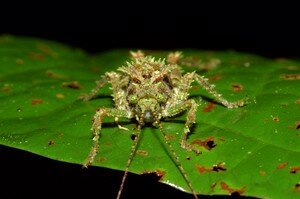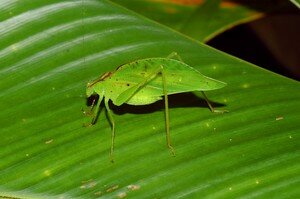 (Fam.) Tettigoniidae, Moss and Leaf Mimic grasshopperd, Braulio Carrillo NP
Rara Avis is probably the most incredible ecotourism project in Costa Rica; it is one of the first project of that kind that appeared 25 years ago. And nothing changed. The reserve is quite small (about 400 hectares) but is covered in totality with deep primary pre-montane rainforest and border the huge Braulio Carrillo national park making 45.000 hectares of field to look for rare species. Rara Avis has one of the most important rainfall of Costa Rica : it falls here more than 300 inches of rain per year. The reserve directly receives the rains from both Pacific and Atlantic's oceans.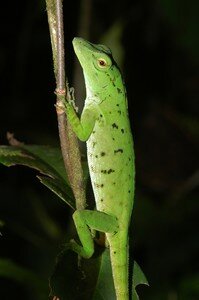 A gauche, Left : (Fam.) Mantidae, leaf mimic Mantid, Rara Avis
A droite, Right : Norops biporcatus, Giant Greena anole, Rara Avis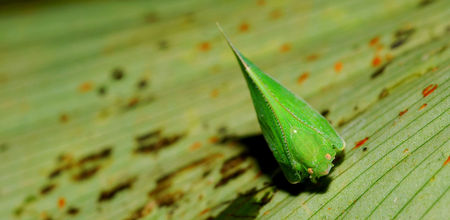 (Fam.) Membracidae, Treehoper, La Selva Biological Station
When arriving in Costa Rica you realize very quicly that ecotourism is THE business. It's like being in the country of the domesticated rainforests ; one need to go unbeaten tracks to really discover the country but overall, there is an incredible biodiversity over there. This tiny country paved the way to ecotourism and to the protection of the tropical rainforests.