10 avril 2008
LES STATIONS DE RECHERCHE,
ILOTS DE CIVILISATION
BIOLOGICAL STATIONS, ISLANDS OF CIVILISATION
.

" Au final, nous conserverons ce que nous aimerons, nous aimerons ce que nous
comprendrons. Nous comprendrons seulement ce que l'on nous enseigne "
" In the end, we will conserve only what we love, we will love only what we
understand. We will understand only what we are taught "
Baba Dioum
---
Les stations scientifiques sont des lieux de recherche issus de grandes universités et souvent implantées dans des territoires vierges de toute activité humaine. Elles visent à promouvoir la biodiversité et surtout à fournir aux chercheurs et aux biologistes de passage, tous les moyens necessaires pour étudier les forêts tropicales au plus près. Ce sont de véritables ilôts de civilisation à l'écart de tout.
Biological stations are managed by the big universities and are mostly located in deep untouched territories. They usually promote the biodiversity of the local places and provide to researchers and biologists all what they need to study the tropical rainforests.

Passerelle de canopée, Réserve Monteverde, Costa Rica

La vie dans une station scientifique est un peu particulière : on croise d'étranges individus qui travaillent toute la nuit et se reposent la journée, on trouve des pièges photographiques sur les sentiers souvent curieusement balisés, des passerelles et des tours de canopée à plus 40 mètres au dessus du sol et surtout l'étrange sensation d'être vraiment au plus profond de la forêt tropicale. Les chercheurs viennent souvent du monde entier pour étudier quelques semaines, quelques mois ou quelques années... Leurs recherches portent sur des sujets aussi divers que l'étude de toutes les espèces de fourmis d'un seul arbre, le recensement des grenouilles sur plusieurs kilomètres carrés, la collecte d'insectes.

Life in a research station is quite amazing : we can find biologists working only at night and sleeping during the day, we find camera traps on the trails, canopy walkaways at more than 120 feet above the ground. You feel here at the deepest in the rainforests. Researchers come here for several weeks, several months or several years... They come from all around the world to study for example all the ants species of one kind of tree, collect of all the frog species on thousands of square meters, insects study at the top of the canopy, or the study of the comportment of some primates' species...
You learn every day here.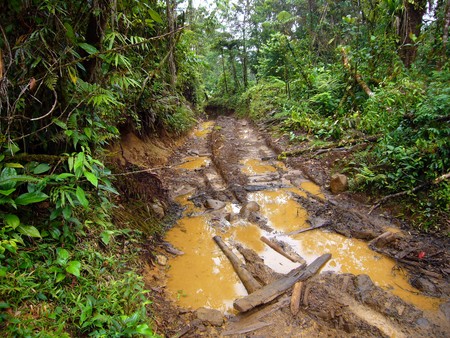 Piste d'accès à la Réserve Rara Avis, Costa Rica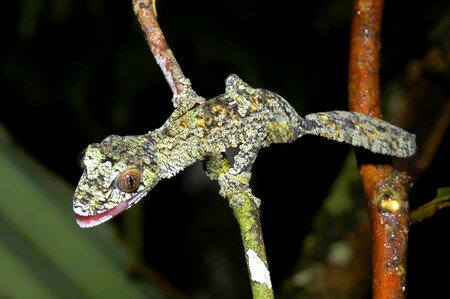 Uroplatus sikorae, Réserve Montagne d'Ambre, Madagascar
---
L'accès aux stations de recherche demande souvent de longues journées de trajet souvent pittoresque. C'est le prix à payer pour se retrouver dans des zones de biodiversité très riches. Mais d'années en années, la civilisation gagne du terrain et il faut sans cesse aller plus loin. Les stations de recherche peuvent aller de la simple cabane très sommaire accueillant quelques chercheurs, au véritable complexe scientifique pouvant recevoir plus de 100 personnes à la fois.
Access to biological stations includes long days of travel often in incredible conditions. That's the price to pay for arriving in remote areas away from any kind of civilisation. But years after years, we have to go deeper and deeper in the rainforests. Research stations can go from simples houses for several persons, to huge scientifical complex gathering more than 100 biologists at the same time.

Camp n°1 Parc National Marojejy, Madagascar
---